Confirmation par Thomson Reuters® est le moyen le plus fiable de vérifier les données financières. Il est facile d'envoyer des références bancaires, des vérifications de dépôt (VOD), des révisions d'hypothèques et des demandes d'éligibilité aux prestations gouvernementales (HUD).
The next generation of our asset verification platform provides an even easier and faster way for you to securely complete requests anytime, anywhere with our cloud-based centralized solution.
Faster asset verifications in fewer steps
Simplify your workflow, manage requests from an intuitive interface, and send requests for multiple clients to multiple banks in one order. Our growing validated responder network and validation procedures ensure your requests are going to the right place, reducing the risk of fraud. Only Confirmation provides a global network of validated responders that guarantee a response, typically within 24 hours.
Confirmation is the leading solution to complete asset verifications
Largest validated network
More than 1,000 in-network banks (compared to 12-20 from other providers)
Trusted process
Internal controls and procedures to ensure users and responses are not fraudulent
Un flux de travaux simplifié
Single platform to complete asset verifications efficiently, including reviews
Superior security standards
100% safe, secure, and encrypted cloud-based solution
Historical data
Carry over client account information from year to year
Réponse garantie
Automated follow-up on requester's behalf for our in-network banks
Save time getting started with an intuitive interface to send, find, sort, and filter requests
Centralize and manage all your requests in one easy-to-use system with access to over 1,000 banks in our network.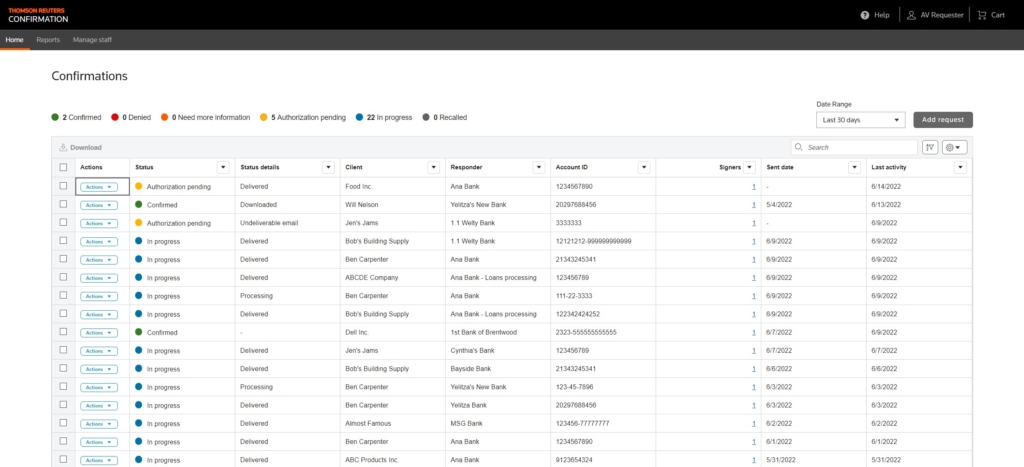 Simplify your workflow and manage requests in fewer steps
Select the type of confirmation you want to request
Find the financial institution you want to send it to
Search for an existing client or add a new client
Complete the form based on the selected confirmation type
Review, add to your cart, and check out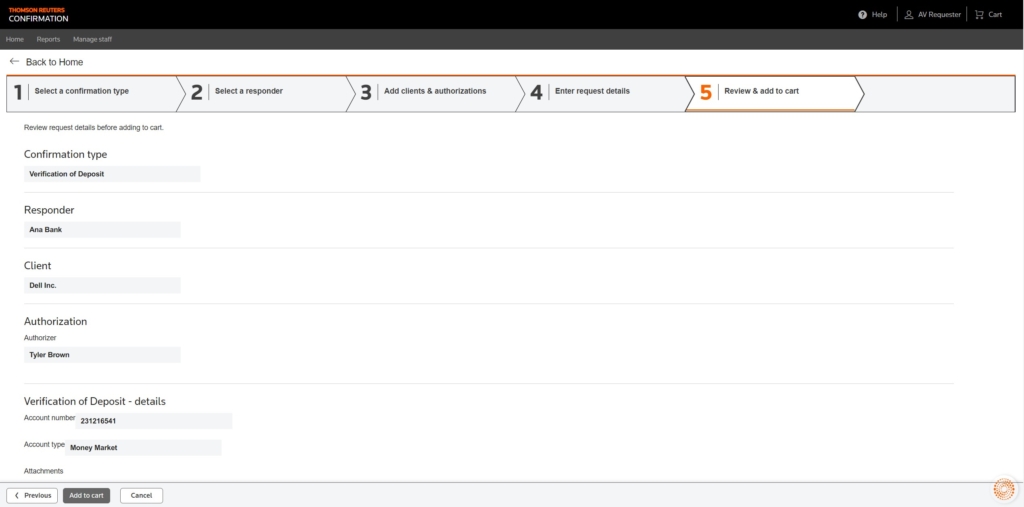 Streamline the checkout process by sending multiple requests in one transaction

Run a report by confirmation type, then filter by the client name, date, and more to view previously sent confirmation requests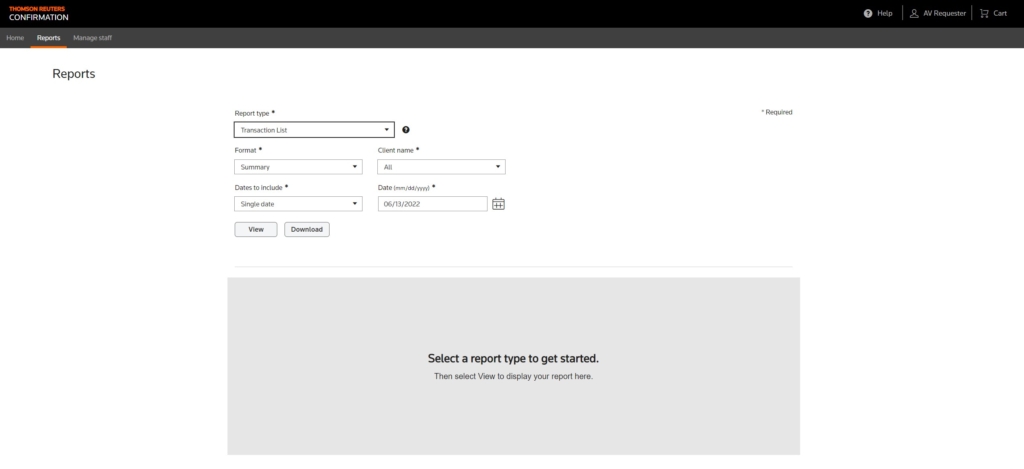 Take the next step today
Getting started is easy with no contracts or intensive tech setup. Sign up for an account within minutes and begin sending requests. No need to enter credit card information until you submit a request, and no hidden fees; only pay for the requests you send.